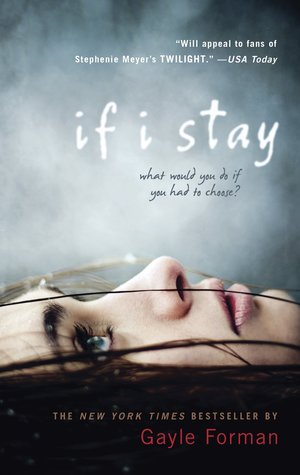 On a day that started like any other,
Mia had everything: a loving family, a gorgeous, admiring boyfriend, and a bright future full of music and full of choices. In an instant, almost all of that is taken from her. Caught between life and death, between a happy past and an unknowable future, Mia spends one critical day contemplating the only decision she has left. It is the most important decision she'll ever make.
Simultaneously tragic and hopeful, this is a romantic, riveting, and ultimately uplifting story about memory, music, living, dying, loving.
If I stay is a contemporary novel written by Gayle Forman. I don't usually like contemporary novels, mainly the cheesy romance unnecessary girl problems ones. If I want to read a contemporary novel, I would want it to be interesting, unique and somewhat realistic. The only reason I read this book was because the movie was coming out and I watched the trailer and it looked interesting.
So instead of having the physical book, I listened to the audiobook. I am not a fan of audiobooks, I despise them. In this case, I was very happy with it. The narrator actually put emotion into the words she was reading. One of the only problems that I had with the narrator was that it sounded like she was a thirty year old woman reading a seventeen year olds words.
This book was beautifully written, it is now one of my favourite contemporary novels. For the most part of this book, we are reading about Mia's life in flashbacks. I thought that this was a very unique thing about the book mainly because the car crash happens within a few chapters of the book. I am
very
interested on how the flashbacks are going to turn out in the movie which is coming out very soon.
When I first read that the car crash was happening I was a little confused considering we didn't really get to know and connect with the characters. This is why I think the flashbacks were unique, instead of getting to know the characters before the crash we get to know them after the crash. All of the characters are really lovable and there isn't really anything special about them, they are the most simple characters. They're not complicated they're just regular people.
Speaking of characters, I really loved Mia as a character. She wasn't really one of those characters who had really stupid "girl problems" which is why I usually avoid contemporary novels. Yes she had problems but they weren't annoying. The big problem being staying or not. It was so sad reading about her family and friends talking to her and saying it's okay if you want to go and you could actually see that she was considering leaving but then everything changes with Adam.
Her relationship with Adam was the standard contemporary novel relationship, a girl who is a little bit of the underdog or the outsider ending up with the cool popular boy. Thankfully their relationship wasn't cheesy, it was a very sweet relationship. I don't know why but I don't like the fact that she stayed for her boyfriend, I mean you never know where that relationship will go. I am happy that she stayed though, the happy ending could go either way she could stay and be with her friends or be with her family.
I know this review didn't really say much but I think it's best to discover things for yourself. It does live up to the hype but sometimes it's good to shove everyones opinions elsewhere and read it for yourself and see where you stand. I really loved this book, I wish it was longer just because I would like to see everything resolve. I would rate this book a
4 out of 5 stars
.
I hope you enjoyed this review!
Please follow out blog!
You can watch the NEW trailer down below! It's fantastic!